FunTimes Events
Honoring these exceptional persons
Dr. Ellyn Jo Waller, First Lady, Enon Tabernacle Baptist Church
Dr. Cordelia N. Uddoh, owner of Premier Vision
Mr. Bryant Greene, CEO/Administrator, Always Best Care Senior Services
Mr. Jude Arijaje, owner of Minuteman Press
You could be a part of this, Click here.
Call 215.954.6300 or email us info@funtimesmagazine.com. Tickets

July-Aug Flipbook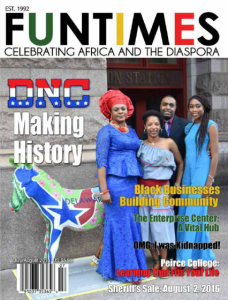 It was Edmund Burke, who said "all that is necessary for the triumph of evil is that good men do nothing!" Our vote is our voice. Do not be tarry! Click here to read July August Edition.
Latest News
Posted: August 11, 2016 »
Posted: August 11, 2016 »
Posted: July 14, 2016 »
Posted: July 10, 2016 »
Posted: June 9, 2016 »
---